Indonesia tsunami: hundreds dead on Sulawesi after earthquake
At least 384 people have died after a powerful earthquake rocked the Indonesian island of Sulawesi and triggered a tsunami.
Athonius Gunawan Agung, an air traffic controller who jumped off a tower roof as it was collapsing while waving out the last flight from Palu airport on Friday night, was one of the first casualties of the disaster.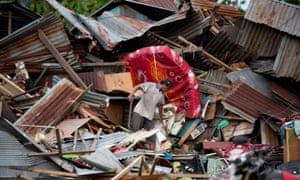 A man looks for his belongings amid the debris of his destroyed house in Palu. Photograph: Bay Ismoyo/AFP/Getty Images
The 21-year-old broke several bones, including an arm and a leg as he jumped off the tower. His employers sent a helicopter to take him to another city for treatment, but he died 20 minutes before it arrived.
The 7.5-magnitude earthquake struck Palu, on the Indonesian island of Sulawesi, just before dusk on Friday, wreaking havoc and destruction across the city and triggering a deadly tsunami on its coast.
In the city of Palu, home to 350,000, at least 384 people have already been confirmed dead, with more than 500 injured.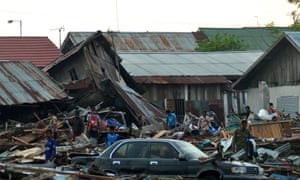 Residents trying to salvage belongings from their homes which collapsed after an earthquake and tsunami hit Palu on Sulawesi island. Photograph: Muhammad Rifki/AFP/Getty Images
The quake destroyed thousands of homes in the city, as well as an eight-storey hotel, hospital and a large department store.
The damage has been described as extensive: a main highway was cut off by a landslide and a large bridge washed away by the tsunami wave, which hit Palu's Talise beach and the coastal town of Donggala.
The tsunami wave reportedly reached as high as 6 metres, and as it approached land was travelling up to 250mph (400km/h).
"The tsunami didn't come by itself," said Indonesia's disaster agency spokesperson Sutopo Purwo Nugroho. "It dragged cars, logs, houses, it hit everything on land."
On Saturday morning as residents awoke to the destruction, with some areas entirely flattened – a horizon of scattered wood, debris and corrugated iron roofs – people have been desperately trying to find their missing relatives.
A Facebook page for information on Palu city has become a pop-up ledger for missing persons, with family members posting pictures of their missing children, wives, fathers and grandparents, in the hope that someone will find them.
Of the almost 400 dead, emergency teams have only identifed 97.
In the aftermath of the disaster, phone communications and seven power stations were knocked out, although on Saturday morning the state electricity company had recovered power at two plants.
With limited communications, it has been impossible for authorities to determine the full extent of the damage or death toll, especially in the coastal town of Donggala, population 270,000.
"Donggala is still unreachable because communications are still cut off," disaster spokesperson Sutopo, told reporters on Saturday afternoon.
Sutopo said bodies of people killed by the tsunami had been found on the shores of local beaches, but there is yet to be an official tally.
Early witness reports said that people had been killed on Talise beach in Palu.
Photos shared on social media showed bodies being lined up on a shoreline, their faces covered in cloth.
Authorities have warned the extent of the tragedy could worsen in the coming days, as more information from currently disconnected areas comes to light.
Hundreds of people planning to attend a beach festival who are now missing, may be among the rising toll.
"When the [tsunami] threat arose yesterday, people were still doing their activities on the beach and did not immediately run – and they became victims," Sutopo said
Amateur footage that has gone viral on Indonesian social media shows a huge wave hitting the coastline, engulfing the roofs of houses as it crashes into the city, and floods into a nearby mosque.
Search and rescue teams have been deployed to the worst-affected areas, with authorities saying that military transport planes and helicopters would be deployed along with "all national potential". About 700 army and police officers have also been dispatched to assist in the emergency response.
The military has also started sending in cargo planes with aid, authorities said, from Jakarta and other cities, but evacuees still badly need food and other basic necessities.
As of Saturday evening, more than 16,000 people had been displaced, evacuating to 24 centres in Palu. Indonesia's president, Joko Widodo, is scheduled to visit evacuation centres in Palu on Sunday.
Indonesia's disaster agency is working to restore electricity and communications, as well as address urgent needs, such as the provision of medical treatment, temporary housing and basic supplies such as food and water.
Palu's airport also sustained damage to its control tower and runway. Commercial flights were suspended on Saturday, with only humanitarian and search and rescue flights permitted, although authorities are assessing whether the airport can be reopened on Sunday.
The strongest quake, caused by activity in the Palu-Koro faultline, hit at 6.02pm on Friday at depth of 10km, and has been followed by dozens of smaller aftershocks, including one of 6.7. An earlier 6.1 quake in central Sulawesi killed several people, injured 10 and damaged dozens of houses.
People living hundreds of miles from the epicentre reported feeling the massive quake on Friday, hours after a smaller jolt killed at least one person in the same region.