Nigeria Policemen Take over Ekiti APC Secretariat as Protests Rock Primaries
Gun wielding policemen have been drafted to the secretariat of the All Progressives Congress (APC) in Ado Ekiti, Ekiti State capital, as supporters of some senatorial aspirants stormed the office in protest.
The one-storey building has been cordoned off by armed cops, who prevented the protesters from gaining entry into the building.
This came as the former senator representing Ekiti North Senatorial district and aspirant in the ongoing contest, Senator Ayo Arise, announced his withdrawal from the senatorial race.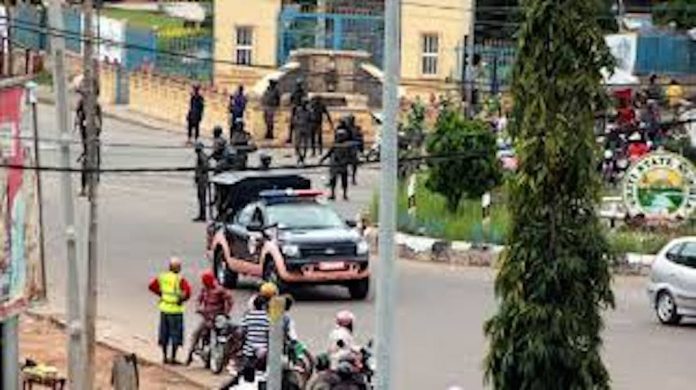 Arise, who was eyeing Ekiti North seat, said he has no implicit confidence in the indirect system adopted by the State Working Committee (SWC).
The protest nearly snowballed into pandemonium as the policemen attempted to arrest a protester, resulting in some members of the SWC being held up in their respective offices for over 30 minutes.
The policemen were led by Assistant Commissioner of Police, Mrs Julie Ajao, and other senior police officers.
The protesters accused the Paul Omotoso-led executive of compromising the yet-to-be-conducted primary by adopting indirect option instead of the direct system mandated by Adams Oshiomhole-led National Working Committee (NWC) of the party.