ASUU strike suffers major setback -As Adegbola Oluwaseun (Triple Tee) says I will not beg ASUU
By Our Correspondent
The Academic Staff Union of Universities strike has suffered a major setback as a front line Social Rights Crusader and Communication Strategist, Oluwaseun Adegbola popularly known as "Triple Tee" in his Towncrier had said that he will not beg ASUU.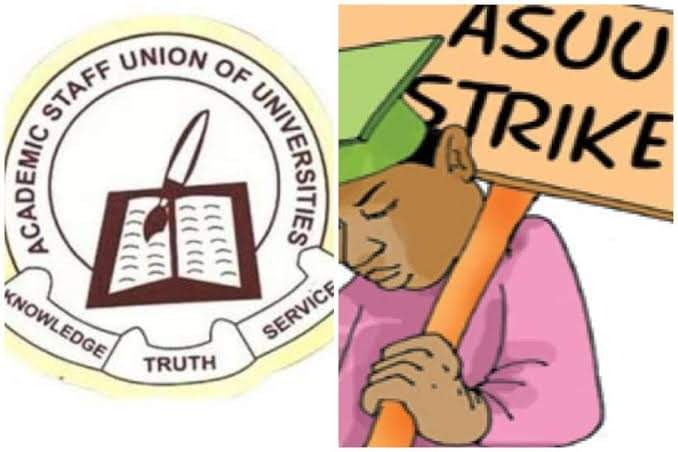 "I will not beg ASUU. Their demands are superfluous and unrealistic. They cannot fix their earnings. The demand for a 180% percent salary increment is criminal for a group of people that have not and may not be able to solve any of our national problems and sectoral growth issues. If our education system is productive and useful, Nigeria today would have been the China of Africa. Poor research skills, disorganized learning aptitude, canonical, and disused curricula, cribbing and lack of innovation are some of the obvious anomalies of our universities. What is the research profile of these lecturers? How productive are they to our national development and sectoral growth challenges? If they are useful and resourceful, they should have helped us solve the bulk of our national problems from revenue, to health, production, economy and all. Plagiarism and intellectual thefts are recurrent decimal in our citadel of learning. shamefully, the relationship is no longer give and take. They are a huge burden to our national budget in a country with dwindling revenue.
One would wonder if we will be talking about funding universities in Nigeria today if any of our faculties of pharmacy for instance was the standout producer of Astrazeneca vaccine for covid19, and supplying just Africa countries. The money generated from this alone will fund ASUU forever and fix the rot in our ivory towers once and for all. Reward must be commensurate with productivity. But where is the capacity? Same for our Faculty of Engineering and Technology who are sown perpetually to 18th century concepts and antediluvian ideas. We do not produce ordinary blending machines, not to talk of automobiles, heavy machines and farm equipment? We rely solely on importation from a country with a more serious and research focus Academic staff unions. The implications of this are mammoth. First a capital flight and second, job flight. Unfortunately, ASUU is asking for the money they cannot help us retain in our economy. While graduates are similarly asking for jobs, ASUU's ineptitude took out of Nigeria long before they were admitted. It is our shameful reality.
What is most unfortunate is even ASUU trying to determine how the government should pay their salary. Some of them are part-time lecturers in private universities, and will never try that blarney with visitors (owners) of private schools. Frankly, ASUU that cannot develop and design a workable system of government in/for Nigeria with more 113 faculties of social science in our 63 years of independence, hurried to develop UTAS to hide their blagging and inordinate agenda and in the process pointing a gun at the Federal Government to pay them with it. Regrettably, UTAS like ASUU failed the system integrity test. Yet, they will not shift ground. They have the students as bait.
In fairness, if any faculty is tired of teaching and wants to become a Senator, a Governor or even the President and commander of the Federal Republic, s/he should resign and join a political party, print posters and start a campaign. Simple and straight. These issues are beyond President Buhari. ASUU strike antedated this government. Strike is their stock. They are not even creative in their struggle beyond using the students as a decoy to negotiate their greed and larceny. Government largely funds public sector education in Nigeria. Our universities are one of the cheapest in the world. The tuition charges from students are very far from the budgets of our schools. This same meager tuition is grossly abused and unaccounted for. Yet they want more money even with a dwindling national revenue.
The Federal government should be deliberate henceforth about lecturers recruitments and promotion. We must find a way to end this mediocrity, lack of scholarship, enterprise and innovation. Promotion should only be earned on useful and verifiable research. We must ease these robots away from the system.
Yes, I will not beg ASUU.
Adegbola Oluwaseun (Triple Tee)
©2022